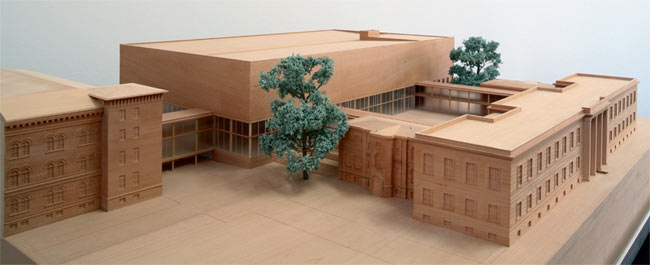 View of the new repository from the north-east built between Building 903 (on the left), the last remaining undamaged large housing building from the Prussian Hauptkadettenanstalt (Cadets' Institute), and Building 906 (on the right), the facilities building which was extended during the time of National Socialism. In the middle is a large sycamore tree (plane tree), behind which the exterior steps lead up to the main entrance of the Bundesarchiv.
On their property on Finckensteinallee in Berlin-Lichtenfelde, the Bundesarchiv (Federal Archives) is building a new repository for the storage of approximately 110,000 meters of archival material and is renovating as well as remodeling the existing listed historical Buildings 906 and 903.
The project serves the long-term goal of the Bundesarchiv to establish a centralized location in the national capital area. It shall also provide new space for the currently temporarily stored printed material, which, until completion of the project, remains difficult for the public to access.
Building 903, the last remaining undamaged large housing building from the Prussian Hauptkadettenanstalt (Cadets' Institute), will be renovated for use as an administration building. Building 906, the central core of which was built in the 19th century, and which was extended with a northern addition in the 1930s, will be further extended and converted for use as a public service center for Bundesarchiv visitors. Also included in the project is the re-designing of the property landscaping, squares and walkways.
The approved cost of the project is
42,452,000 Euro.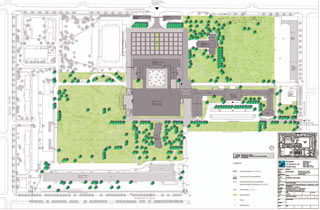 Landscape design plan
Excerpt from the Commentary of the Architect, Stephan Braunfels
"The Bundesarchiv plans to extend its new main location with a combined main entrance and repository building, including a movie theater and a lecture hall. Where as most of the buildings of the Kadettenanstalt were destroyed in the Second World War, the buildings that were built for Adolf Hitler's Leibstandarte SS suffered little; because of this historical situation, the new repository will have the important job of defining a new spirit for the site. The new main entrance, glass and transparent, will not only open freely to the expansive park beyond, but will also functionally and meaningfully connect the existing buildings with each other over an open courtyard. The use of glass, a material creating a sense of transparency, stands for the expectation of the roll that an archive, and in particular the Bundesarchiv, plays in a democratic country. Consequently, the Bundesarchiv is the window to the federal government and administration, creating transparency for the political or administrative decision making processes"