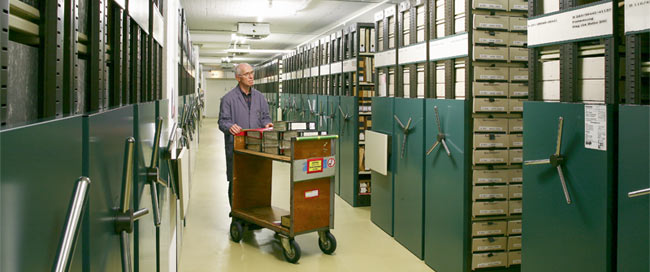 The repository in Koblenz.
The Bundesarchiv (Federal Archives) is a government organization that provides services for the public, the research community and the administration; it provides long-term storage for the documents and records from modern and current German history, and makes these available to the general public. On the basis of the Bundesarchivgesetz (Law on the Preservation and Use of Federal Archival Documents), the Bundesarchiv preserves civil and military records of the current German Federal Government as well as previous governments including the German Federation, the German Reich and the German Democratic Republic. Furthermore, these records are supplemented with archival holdings from private sources.
For long-term safekeeping, the archive and library material is properly stored, treated for preservation, and restored if necessary; as a precautionary measure the material is also microfilmed or digitized. In addition to the traditional written documents, the Bundesarchiv is also responsible for the long-term storage and preservation of documents already in electronic form, documentary and feature films, maps, photographs and other audio-visual material of historical and cultural importance.
The Bundesarchiv relieves the federal governmental authorities and organizations of their documents and records that are no longer regularly used, offering them later access to these materials at the temporary storage facilities in Sankt Augustin and Hoppegarten. The archivists at the Bundesarchiv decide during an evaluation process which records are of long-term interest, analyze them and make them available to the public after considering the statutory privacy rights issues, as well as advise the users.
The Bundesarchiv supports historical research including the publication of bibliographic catalogs and academic papers. It makes library information as well as resources from its academic special library available to the public, and presents educational exhibitions about archive holdings in the branch archives in Rastatt and Ludwigsburg; all of these are also available online.